We believe good design is a collaborative process. Wonderful buildings spring from the hopes, dreams and aspirations of the people who use them, and architects help translate those visions into reality. Good buildings reflect the character of the people who use them and at the same time, are in balance with their surroundings, the environment, and the realities of budget. As your architect, we are your ally and your advocate. We listen carefully to what you want and need and help you build it. We strive to make the process rich, rewarding and fun!
Wyeth Architects LLC is a Connecticut-based architectural firm. We design for residential, institutional, educational, entertainment, retail and commercial clients. Our work has received numerous awards for design excellence. With decades of experience in new construction, renovation, and restoration, we know how to work within your budget to create designs that look good and feel right.
We offer complete architectural services, from design consultation to construction documents and construction administration, as well as specialty services: energy conservation, historic preservation, and help with municipal approval processes.
Our deep interest in sustainable design practices gives us experience with photovoltaics, low-head hydro, wind, passive solar, super insulation, ground source heat pumps, water sourced heat pumps, and alternative energy sources. To make buildings more efficient, we utilize all appropriate techniques and approaches including recycled materials, cradle-to-cradle strategies and strategic energy conservation and usage. LEED accredited and Passive House Certified professionals are on staff.
As a CT-based architecture firm (close to NY, MA, RI, VT and NH), we are centrally located to perform work throughout New England.
The Legacy Theatre
The Legacy Theatre

2022 Preservation Connecticut Award of Merit
2022 AIA Connecticut Sustainable Architecture Award of Merit
2022 Elizabeth Mills Brown Award of Excellence
2022 Green Building Awards: Retrofit Award of Merit
AIA Connecticut 2021 Volunteer Of The Year

Design Committee Co-Chair Leonard Wyeth
Stonington Passive House
Stonington Passive House
2020 AIA CT Sustainable Architecture Award category winner: New Construction
2019 Zero Energy Challenge category winner: Best Overall Thermal Envelope
2018 CTGBC Green Building Awards: Passive House Award of Honor
Connecticut Green Building Council & CT Passive House, 2018 Passive House Award of Honor
Ireland's Great Hunger Museum at Quinnipiac University
Ireland's Great Hunger Museum at Quinnipiac University
Connecticut Building Congress, 2014 Project Team Award
American School & University, Outstanding Design (view)
Illuminating Engineering Society, Illumination Award of Merit *
*Renfro Design Group, Lighting Designer
Financial Technology Center at Quinnipiac University
Financial Technology Center at Quinnipiac University
American School & University, Outstanding Design (view)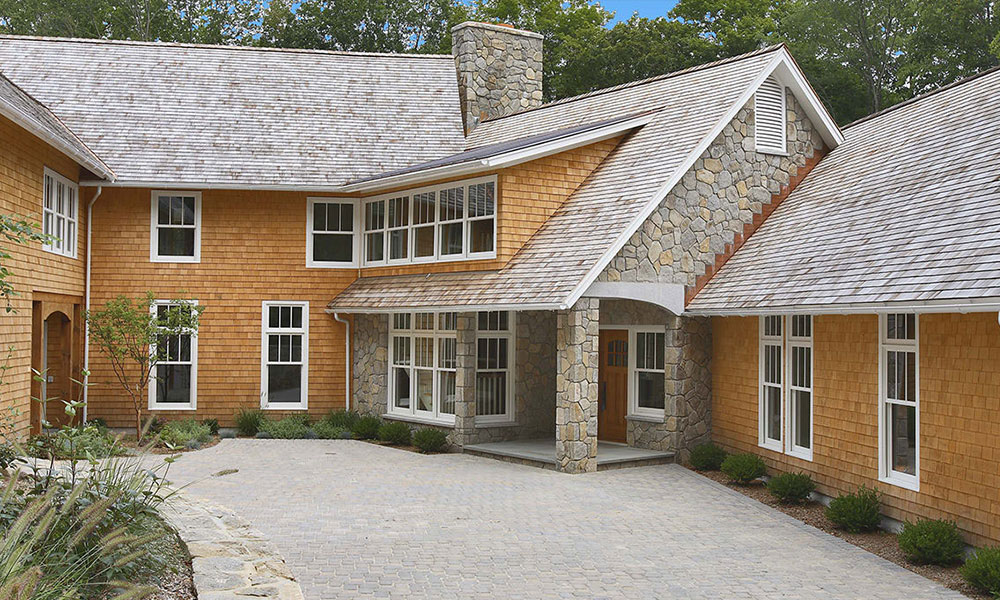 Weston House
Home Buildings & Remodelers Association of Connecticut, HOBI award for Best Spec House in Connecticut **
Sherman House
Sherman House
Home Buildings & Remodelers Association of Connecticut, HOBI award for Best Remodeled Vacation House in Connecticut **
Home Buildings & Remodelers Association of Connecticut, Grand HOBI award for Project of the Year **
** Samuel R. Callaway, Jr. AIA, Leonard Wyeth AIA, and Steward Lade with Timberdale Homes LLC
Victorian House
Victorian House
Metropolitan Hartford / AIA Connecticut, Residential Design Award
Renovation in Southern Connecticut
Renovation in Southern Connecticut
New England Regional Council / American Institute of Architects, Design Award
Connecticut Society of Architects /American Institute of Architects, Honor Award
Renaissance/Remodeling Project of the Year
Builder's Choice Grand Award
Mark Twain Library Addition and Renovation
Mark Twain Library Addition and Renovation
Connecticut Award for Excellence in Public Library Architecture, Honorable Mention ***
Quinnipiac College Rathskeller
American School & University Award ****
Quinnipiac College Lender School of Business Center
AIA Connecticut, Merit Award ****
AIA Connecticut, Energy Efficient Citation ****
McKim House
New England Regional Council/AIA Design Award *****
Builder's Choice Grand Award *****
American Wood Council, Design Award *****
AIA Connecticut, Honor Award *****
Cedar Shake & Shingle Bureau/AIA, First Award *****
Quinnipiac College Suntraps
Baldwin House
Builder's Choice Award ***
Quinnipiac College Suntraps
Quinnipiac College Suntraps
AIA Connecticut, Public Spaces Design Award ****
Quinnipiac College Suntraps
Wyeth House
CSA/Hartford Monthly Residential Design Award
New England Regional Council/AIA Merit Award
Renaissance/Remodeling Project of the Year
AIA Connecticut Honor Award
Builder's Choice Grand Award
Quinnipiac College Suntraps
Manville Apartment
American Wood Council Award *****
Quinnipiac College Suntraps
Crowell Studio and Residence
New England Regional Council/AIA Design Award *****
Red Cedar Shingle & Hand split Shake Bureau/AIA Design Award *****
Builder's Choice Award *****
Architectural Record House Award *****
Long Island AIA Gold Award *****
Quinnipiac College Suntraps
Parc de la Villette
International Competition Credit Award ******
*** with William H. Grover FAIA, Partner-in-Charge, of Centerbrook Architects
**** with Jefferson B. Riley FAIA, Partner-in-Charge, of Centerbrook Architects
***** with Mark Simon FAIA, Partner-in-Charge, of Centerbrook Architects
****** with Centerbrook Architects